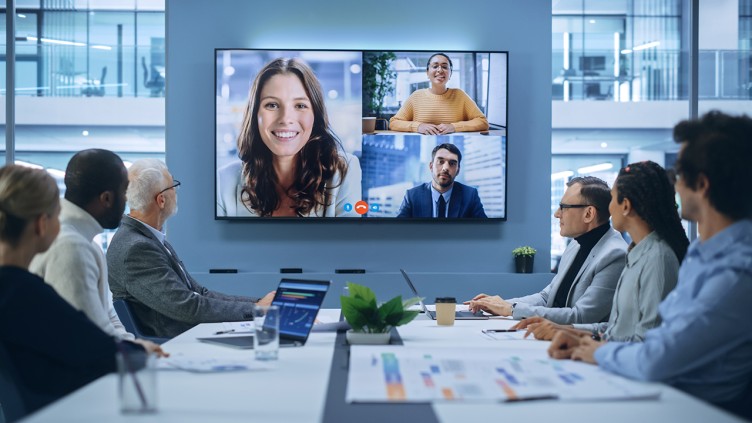 It's true that the pandemic initially took away some things we never knew we took for granted. The list is long. Now that we've been through the thick of it, let's be honest: we do enjoy some of the pros that came with it!  The top of the list has to be virtual events. During the lockdown days, it was amazing to follow and engage with experts who we would normally have no access to. If you think you have to say goodbye to some of the pandemic's guilty pleasures just because we're back to in-person meetings, you are wrong!
We now frequently have multilingual hybrid meetings, i.e. the best of both worlds. You can invite experts, keynote speakers and executives to your event no matter where they may be. It's simple: You will need a venue to host your guests or speakers who can be there in person. For those who can't, you will have a virtual system set up at your venue so that they can participate in the meeting as if they were there in person. That's why we call it a hybrid meeting. If your virtual and on-site participants don't speak the same language, fear not! The hybrid system also allows for simultaneous interpretation; that's why we call it "multilingual".  
It's really not complicated, here's an example: Let's say that you are our client. You are in the maritime transport sector and organizing a meeting with participants from Mediterranean countries. You will have Turkish, English, Spanish, Arabic and French speakers at your meeting. This is the perfect occasion for a multilingual hybrid meeting. Why? Because your guests will have the freedom to choose between attending in person or virtually. Your interpreters can also connect on-site or online. Win-win for everyone involved. This setup offers the flexibility we need in the age of technology.
We don't mean to brag but it takes an expert team to make things run smoothly. No need to be humble about it; from a technical point of view, setting up hybrid meetings can be quite complicated. These meetings are called hybrid for a reason: You have to make sure that the virtual setup and the on-site setup are perfectly in synch. So, the first thing on the list is a fast, reliable and top-notch internet connection with an equally solid back-up. A solid IT infrastructure is vital. The second item on the checklist is having the right devices in your arsenal for the perfect audio and video streaming between the venue and the virtual system which is key for a smooth hybrid interaction among your participants. The list doesn't end there. You need the right team of experts who know how to connect the on-site and the virtual systems, integrate the simultaneous interpretation system with the hybrid setup, and provide real-time assistance. Let's not forget about camera operators who make sure that the audio and video feed from the venue is integrated to the virtual system with no delay or disruption. Do not be intimated by the list. We don't expect you to check those boxes on your own. As your one-stop multilingual hybrid meeting provider, we'll take care of everything. All you have to worry about is the catering.
Anyone who does business across countries and languages will know that hybrid meetings are the best way of travelling around the world without getting jet-lagged. Hybrid meetings are not as impersonal as fully virtual meetings. They are not as expensive and exhausting as fully on-site meetings. It's no longer a dream to have an expert speaker attend your meeting from Japan and address your English-speaking participants in Japanese. You are the CEO of a US-based company operating in Turkey? No problem, you can "virtually" visit the team in Istanbul and engage with them without a language barrier.
You know how the proverb goes: Necessity is the mother of invention. It's a proverb for a reason. Who knows, had it not been for the pandemic, maybe it would have taken us decades to adapt to a hybrid world. What a blessing to have hybrid solutions that allow us to communicate with the world without disrupting our daily routines! Thank God for hybrid meetings.